Thermoelectric cooling devices on the base of thermoelectric modules act as traditional compressive refrigeration equipment or absorption refrigerating plants. TE cooling devices are destined for application in products with different functions for the purpose to maintain constant temperature (lower then ambient temperature) inside cooled object.
Thermoelectric using
They can be used instead of traditional refrigerating units:
in domestic fridges;
in market equipment and industrial equipment, that have volume less than 200 litre;
in mini-bars; in drinking water coolers;
for heating/cooling of car seats;
for control of crystallization process;
in medical-biological apparatus and for others refrigerating devices for special use.
Thermoelectric cooling devices are well-known as "coolers" in computer equipment.
Thermoelectric cooling devices have such advantages over traditional refrigerating devices:
absolutely silent work;
fine temperature control function;
high reliability;
energy saving;
fire safety.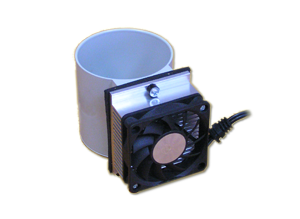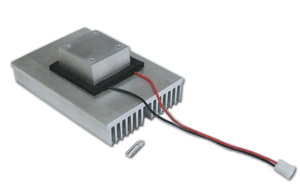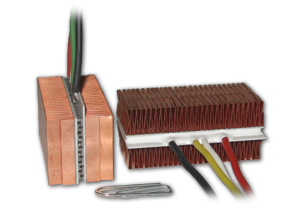 The thermoelectric cooling devices (assemblies) with cooling capacity 115 and 270 W.
Thermoelectric cooling devices 115 and 270 W are designed to remove heat from enclosures with electronic equipment, control panels, etc. by convective and conductive heat transfer. They are used to prevent overheating and failure of electronic components and assemblies that are sensitive to high temperatures
| | |
| --- | --- |
| Thermoelectric device 115 W | |
| Thermoelectric device 270 W | |